Healthy Vending in the New Year!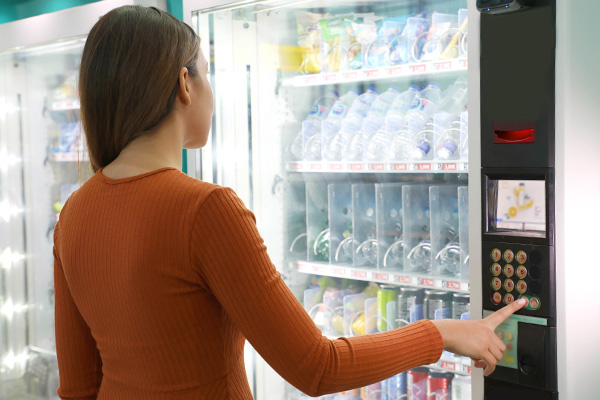 The start of a new year gets many people thinking about making some new beginnings in their own lives. For many, that means taking steps to improve their health.
For those we serve this time of year, the new beginning comes in the form of charting their own path forward out from under their current jobs. Maybe the best news of 2022 so far is Evergreen Franchise Advisors has an incredible opportunity for entrepreneurs who would love to combine both of those. Healthy Vending gives those who want to own their own businesses the chance to offer a much-needed alternative to traditional vending services while building their futures.
The Trouble With Traditional Vending
As anyone trying to eat a healthy or restricted diet can attest, most products offered in traditional vending machines and kiosks are loaded with sugar, fat, salt and other health no-nos. From sodas to chips, these products offer empty calories and little nutritional value.
Research shows the vast majority of products sold in traditional vending fall into this undesirable category. While they may sell, since people are programmed to like snacks heavy on sugars and fats, they are not the types of foods people on diets are looking for.
The Solution: Healthy Vending
Healthy Vending seeks to change that by capitalizing on the growing demand for healthy foods. Even when consumers are looking for the grab-and-go convenience of vending, they want something that isn't going to bust their calorie count for the day.
Healthy Vending owners get to be part of the company's "better than a franchise model," which allows both independence and ongoing support. It also offers many other benefits, including:
One-time investment with no royalties or ongoing fees
Fast, simple startup
Best-practices training that sets you up to chart your own course
Little ongoing effort
Opportunity for remote monitoring that lets you keep an eye on your business while keeping up with your regular life
Flexibility in product offerings, location and time commitment
Evergreen Franchise Advisors' own Julie Goldberg can give you a head start on a Healthy Vending franchise. Let her help you build a flexible, scalable business built in a niche with tremendous potential. Schedule your free consultation today!